Elek Plumbing Launches SMALL BUSINESS UNITED MOVEMENT
COVID-19 unleashed an economic backlash that rocked the foundations of U.S. small business, but for Elek Plumbing, there's no such thing as panic mode.
"We're crushing the negative COVID mindset. Instead of just surviving, our team members used the last few months to rejuvenate themselves and tackle personal projects and self-care. Then, they brought that renewed energy into work and used it to reflect, adapt and fine-tune our business strategies," says General Manager Irene Titus. "Now, we're spreading the love by unleashing our Small Business United Movement."
"We are a proud American business that's over a century old, and our legacy isn't an accident," says Owner and President Don Harris. "We're thoughtful, and we plan ahead. We hire for character and prioritize people. Our customers and employees are invaluable to us, and we're thankful for them. That gratitude is a big part of what has fueled our compassion and resilience during the pandemic."
According to Titus, Elek Plumbing has always been highly proactive. "Our forward-moving momentum has seen us through recessions, bailouts and countless other crises," she says. "It has strengthened our company and employees and kept us agile. We were ready for COVID-19—long before we needed to be."
Elek Plumbing Joins Forces With USA-Proud Companies
Now, Elek Plumbing is taking its positive energy to the streets with the launch of a grassroots campaign for small business advocacy. "The Small Business United Movement is our way of supporting the post-lockdown return of American businesses. We know dozens of companies and charity organizations are hanging by a thread, and we're not letting that happen on our watch," said Owner and President Don Harris.
"The Movement starts today, and it won't ever stop! It's about standing in solidarity, and it has already generated so much interest we can't keep up with the interviews," said Titus. "We'll do whatever we can to help fellow U.S. business owners and charity partners rebuild. Too many families and individuals are struggling, and Elek Plumbing is committed to the comeback," Titus said.
"We're better together, and our team wants to be part of the solution," says Harris. He urges people to watch for these exciting Small Business United initiatives to roll out in coming days and weeks:
U.S. Small Business Promotion: Elek Plumbing will promote participating small businesses with feature stories appearing in blog posts, podcasts and social media feeds.
Local Charity Support: Elek Plumbing is a dedicated supporter of charity partners like Audrey's Angels and Joshua's Future of Promises. Most non-profits have been deeply impacted by the cancellation of fundraising events and the fallout of a depressed economy. Elek Plumbing will shine a light on these organizations and provide audiences with new opportunities for donating time, money and other resources.
Social Media Giveaways. Elek Plumbing will purchase gift cards from area businesses and restaurants to give away on Facebook and podcasts. Share our Small Business United posts or join the conversation for a chance to win a prize!
Get Involved. Join the Movement.
Elek Plumbing is #USAProud, and we're ready to see American business thrive again. Small Business United benefits our entire community—but it takes a village to grow the Movement. So we're asking for your help! Here's how you can join the fight for America's small businesses:
Email i.titus@elekplumbing.com to be featured in a free business spotlight. We'll ask you to LIKE US on Facebook, and we'll LIKE YOU BACK. Then we'll connect to schedule an interview!
Once your business spotlight goes live on the Elek Plumbing blog and social feed, it's your turn! We ask that business owners and employees SHARE their business spotlight (and other #SBUnited stories) on their company and personal Facebook pages and other social feeds.
Share some love for our Elek Plumbing Facebook page! You'll get notifications about #SBUnitedMovement news, business spotlights and more—and you'll be in the running for prizes and gift cards!
Tell your friends and family to join the Small Business United Movement by engaging with our spotlight articles, podcasts and social posts. You don't have to be a business owner! ANYONE who LIKES, SHARES or COMMENTS has a chance to win fun and random gift card giveaways for restaurants and services! FREE $$$! You win!
Remember to always use the hashtags #SBUnitedMovement and #ElekPlumbingUnited when you share campaign articles, social posts and giveaway opportunities. That way we'll spread the word… FAST!
We're better together, and Elek Valley is #LehighValleyStrong—but the Small Business United Movement doesn't stop with us! The more you SHARE and TELL YOUR FRIENDS, the faster the Movement grows. Across counties, cities and states. It's gonna be BIG!
Meet Some of Our Elek Plumbing Heroes
Elek Plumbing is proud to support Brandi Capps: the artist and seamstress behind our team's USA flag masks. These fun, breathable masks protect our employees and customers so we can get back to business! Here are a few of our heroes in action.
Request Service
We are here when you need us most. Request your next plumbing service online by submitting your information through the form below!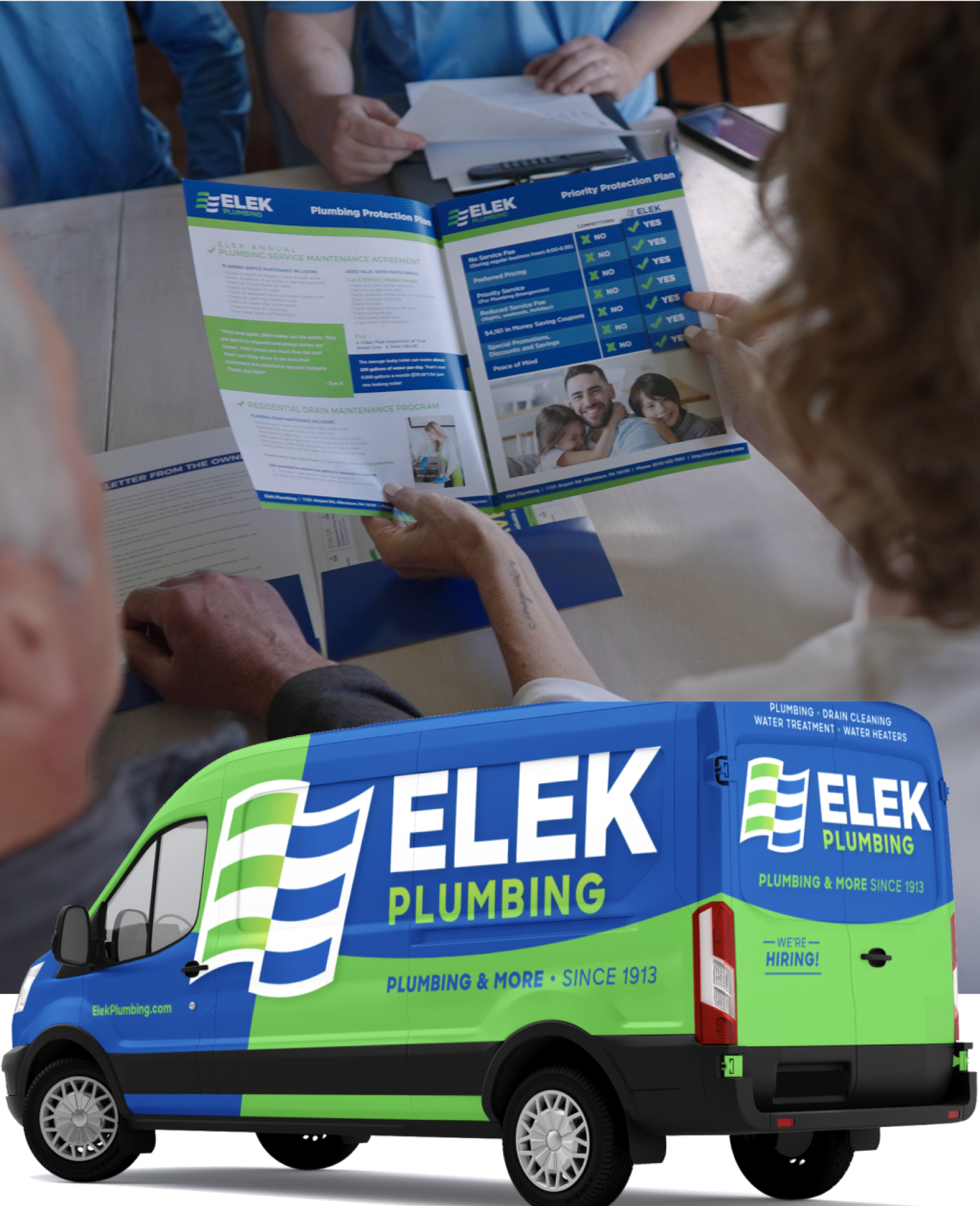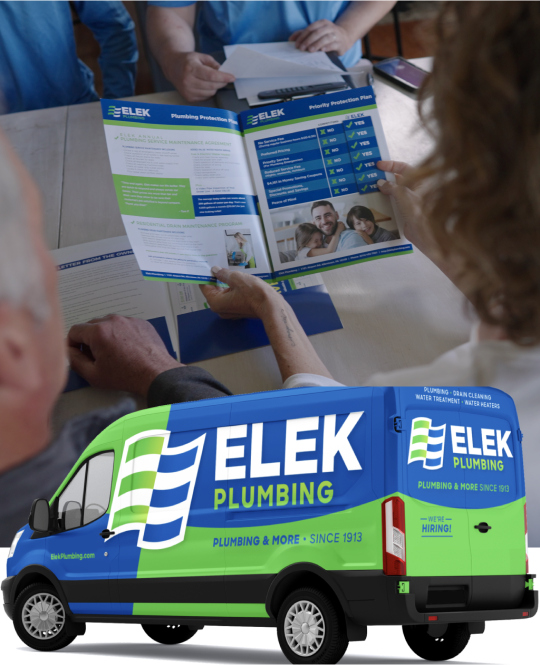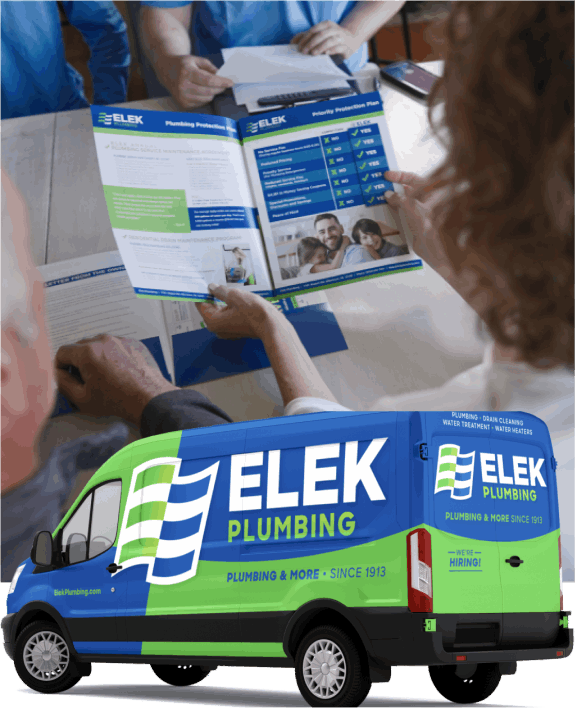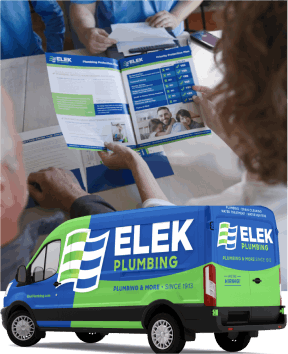 Frequently Asked Questions
Frequently Asked Questions
How long does a water heater last?
How long does a water heater last?
Water heaters last between 8 – 12 years on average when properly maintained. However, your water heater's life span depends on many factors, including the quality of the unit, its maintenance schedule, and the surrounding environment. If you're unsure whether it's time to replace your water heater, request a free estimate from our team.
Can well pumps be repaired, or do they need to be replaced?
Can well pumps be repaired, or do they need to be replaced?
In most cases, well pumps are not repairable. However, in some instances, all that's needed is a bit of maintenance or a minor electrical fix to restore full system functionality. The only way to determine whether your well pump is salvageable is by having a knowledgeable plumber inspect the system.
Is it safe to use chemical drain cleaners?
Is it safe to use chemical drain cleaners?
Drain cleaning chemicals are highly toxic. These chemicals are unsafe for your family and pets and can damage your pipes, causing them to deteriorate prematurely. When stubborn clogs impact your system, the best solution is to hire a plumbing professional to clear the blockage.