Cheap Plumber
10 Tips to Find a Good, Cheap Plumber
Most people are not aware of the importance of plumbing. Plumbing is a fundamental part of your home and it's important to have a good plumbing system to maintain your home's value and keep your family comfortable. Many people think that they can save money by not hiring a professional plumber, but this is often not the case. Finding a good, cheap plumber is not as hard as you might think! You don't want to just hire the first plumber that you come across- you want to find someone who is reliable and won't overcharge you. 
A plumber is a professional who installs, repairs, and maintains pipes and plumbing systems in homes and businesses. If you have a plumbing emergency- such as a burst pipe or a backed-up sewer, you'll need to call a plumber.
Here are 10 tips to help you find a good, cheap plumber:
Get recommendations from friends and family. Chances are, someone you know has had a good experience hiring a plumber, and they can recommend someone to you.
Check online reviews. You can find out a lot about a plumber by reading online reviews. Make sure to read reviews from multiple sources, and look for both positive and negative reviews.
Get multiple estimates. Don't just hire the first plumber you come across. Get multiple estimates from different plumbers and compare their rates.
Ask about discounts. Many plumbers offer discounts for seniors, military members, and others. Be sure to ask about any discounts that may be available to you.
Negotiate. Don't be afraid to negotiate with a plumber on price. They may be willing to lower their rate if you give them some business.
Get it in writing. Once you've agreed upon a price, make sure to get it in writing before the work begins. This will protect you in case the plumber tries to overcharge you.
Check for licensing and insurance. Make sure that the plumber you hire is licensed and insured. This will protect you in case something goes wrong during the job.
Be clear about the scope of the job. Before the plumber begins work, be sure to discuss exactly what needs to be done. This will help avoid any misunderstandings later on.
Ask about payment options. You should know upfront how the plumber expects to be paid. Some plumbers accept credit cards, while others prefer cash or checks.
Get it in writing. Once the job is completed, be sure to get a written invoice from the plumber. This will serve as a record of the work that was done and the cost.
Hiring a plumber doesn't have to be expensive. There are many ways to find a good, affordable plumber. Hiring a cheap plumber can often lead to more problems and expense down the line. It's important to find a good, affordable plumber who will do a great job and not overcharge you. By following these tips, you can be sure to find a reliable plumber who won't break the bank.
Elek Plumbing
https://www.google.com/maps?cid=17731205453129335951
1101 Airport Rd, Allentown, PA 18109, United States
+1 610-432-7001
https://www.elekplumbing.com/
Request Service
We are here when you need us most. Request your next plumbing service online by submitting your information through the form below!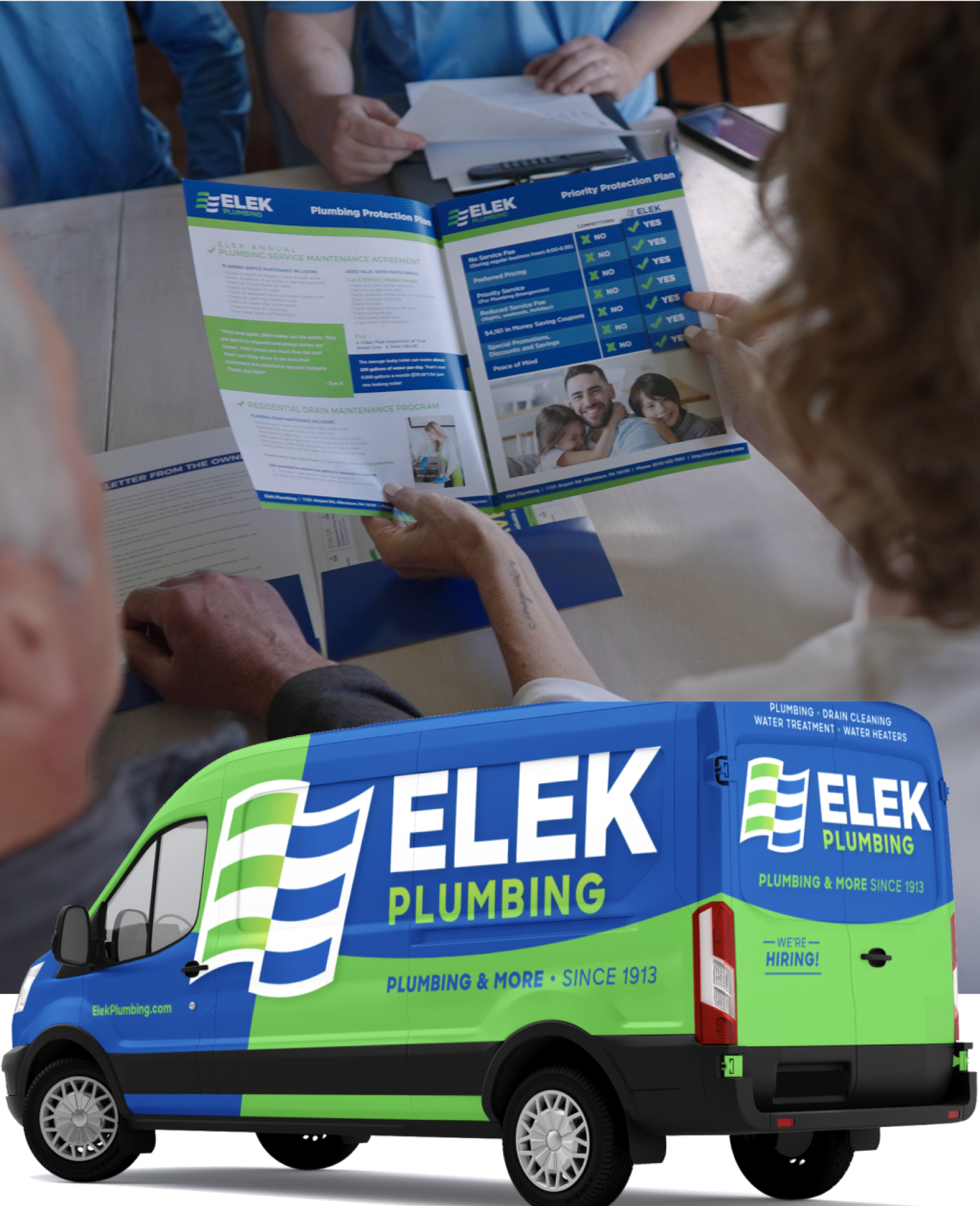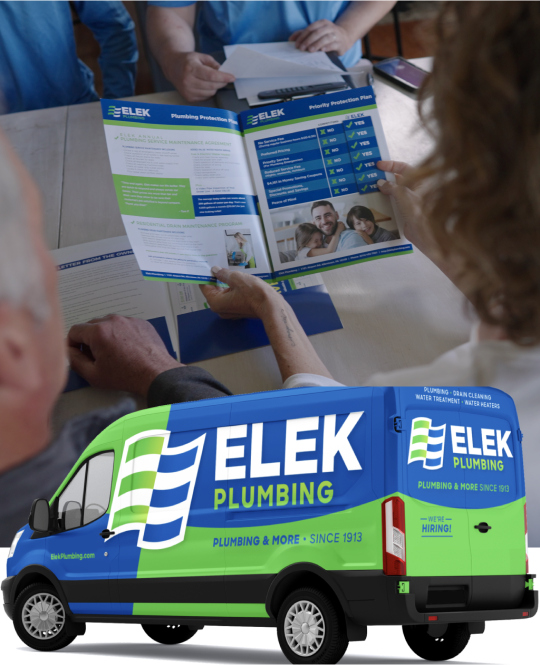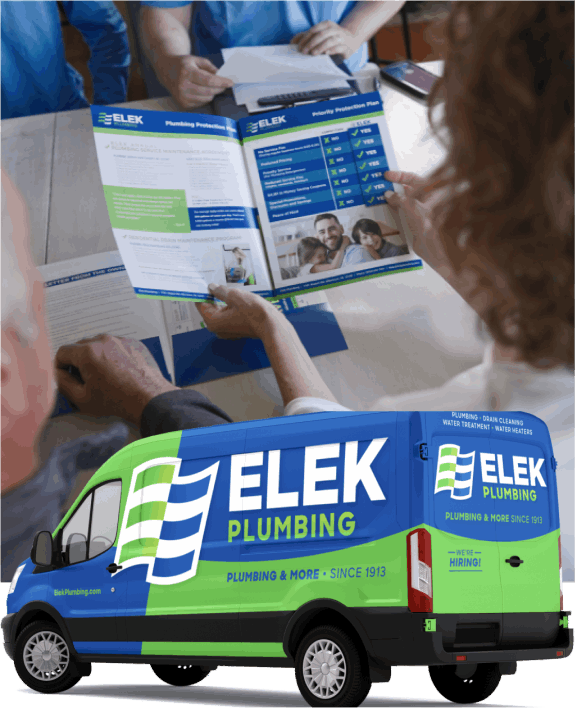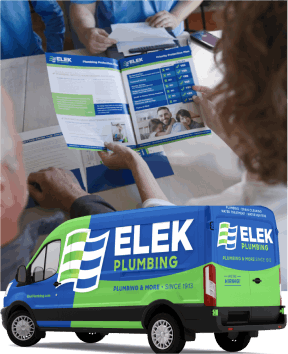 Frequently Asked Questions
Frequently Asked Questions
How long does a water heater last?
How long does a water heater last?
Water heaters last between 8 – 12 years on average when properly maintained. However, your water heater's life span depends on many factors, including the quality of the unit, its maintenance schedule, and the surrounding environment. If you're unsure whether it's time to replace your water heater, request a free estimate from our team.
Can well pumps be repaired, or do they need to be replaced?
Can well pumps be repaired, or do they need to be replaced?
In most cases, well pumps are not repairable. However, in some instances, all that's needed is a bit of maintenance or a minor electrical fix to restore full system functionality. The only way to determine whether your well pump is salvageable is by having a knowledgeable plumber inspect the system.
Is it safe to use chemical drain cleaners?
Is it safe to use chemical drain cleaners?
Drain cleaning chemicals are highly toxic. These chemicals are unsafe for your family and pets and can damage your pipes, causing them to deteriorate prematurely. When stubborn clogs impact your system, the best solution is to hire a plumbing professional to clear the blockage.